The Ultimate Guide to Visiting Oropendola Waterfall Costa Rica
UPDATED VLOG 

to visit the Falls
Is it worth visiting?
Visiting and enjoying the glory of the natural waterfall is something adventure lovers would never want to miss. Rincón de la Vieja Volcano in the province of Guanacaste Costa Rica is a tropical area with so many waterfalls you can access. A hardcore adventurer can trek to some of the ones located in the deep Rincón de la Vieja area. But, this is a great option when it comes to family trips and waterfalls that everyone can access and have a good time together. You don't need to do a full day of hiking like in National Park waterfalls.
How long in advance should I plan?
This trip needs only a little planning so that you reach a waterfall greeting you with its sparkling blue, cool, and gushing waters. So, how is it done? We have described everything you need to know to plan your trip. Please keep scrolling to learn about the trail and how to plan well for it.
How Far is it Driving?
You will find it in the Northwestern Costa Rica's Guanacaste Province.
Your Guanacaste trip will be somewhat incomplete if you miss this visit. It has a short trail; so, you can include it in your itinerary for a one-day trip from different locations, including Hermosa, Flamingo, Tamarindo, Potrero, and other beaches. You can reach the start of the hike with a 1.5 hours drive from most of the beaches. Otherwise, you can plan the waterfall trip as you explore the Rincon de la Vieja volcano area within a few days of your stay including private transportation.
The waterfall is closely connected with the Rincon de la Vieja National Park. You will begin your journey from this park's front. The waterfall is located within the premises of Hotel Hacienda Guachipelin. So, you need to book your tickets at the hotel and access the waterfall through the hotel
Duration: 15 minutes walking each way
Distance: 1km each way (0.6 miles each way)
Difficulty: The level of difficulty is easy to moderate.
Here is what you need to do to access the waterfall
Buy Tickets
You can get your tickets at Hotel Hacienda Guachipelin's front desk or you can book your tickets online. First, you must check at the front desk to get a wristband to show the guard at the trail entrance.
The waterfall entrance is several kilometers from Hotel Hacienda Guachipelin, and you cannot enter the waterfall trail without the tickets. You can also buy tickets at the entrance of the waterfall, but it is better to do it at the adventure center. Having the tickets beforehand is a must. It is going to save you time and energy. Moreover, you may not get the tickets as you arrive in the busy season. Therefore, it makes sense to get your tickets before arriving here.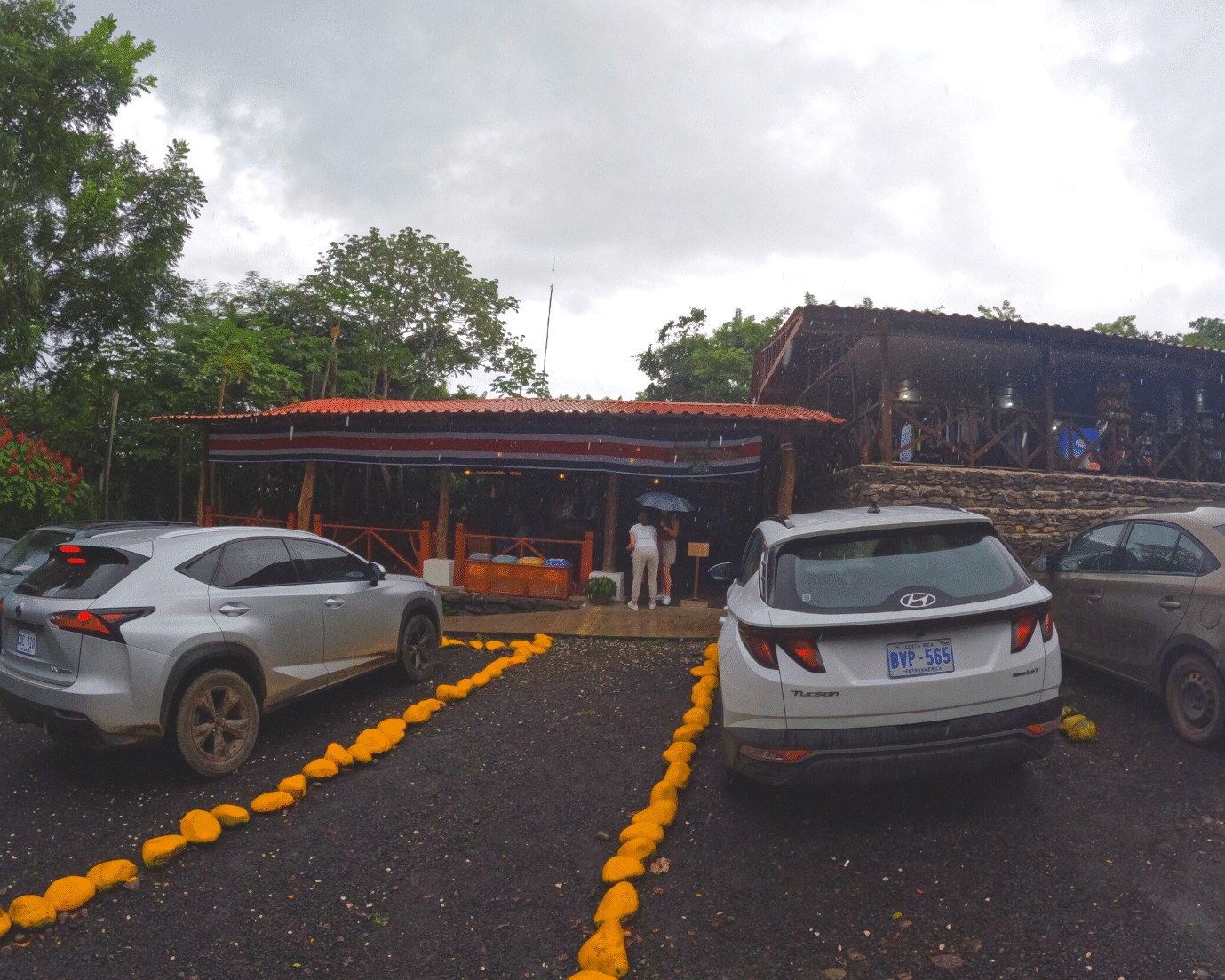 2. Now Begins the Short Dirt Track Hike
A wild but well-maintained path welcomes you. As you get your tickets, you drive for 5km more up the road and then park at the entrance. Once you are there you can start with your short hike. First, the guard sitting here will check your wristband. Following this, you can enter the first part of the trail.
You have to start on a dirt trail that looks well maintained and still looks like an authentic wild tropical jungle feature. The mouth of the short course is flat and wide; a brushy tropical forest surrounds the trail. If you happen to come in the rainy season, anywhere between September and October, you will find it dense and lush. But, in the dry season, the area has a barren look with little greenery. This is also because Rincon de la Vieja volcano area is one of Costa Rica's dry areas.
3. Hanging Bridges
Despite the steps, the bridge is a bit wobbly. But, no need to worry as it's secured on both sides. Holding the railings with your hands while crossing lets you balance your body as you wobble over it.
4. La Oropendola Waterfall
The hanging bridge leads you to the waterfall landing area. This is a great place to take pictures and keep serene memories. From this site, you can look towards the waterfall. It has enough space to have up to 20 people at a time. From this viewing platform, you can see the amazing waterfall that flows down from about 82 feet through the moss-lined rocks of a canyon. The deep turquoise-colored water presents a splendid sight. The soil of the volcanic area is rich in minerals that seep into the water giving it such a pleasant hue.
Keep in mind the color of the water can change depending on the weather conditions.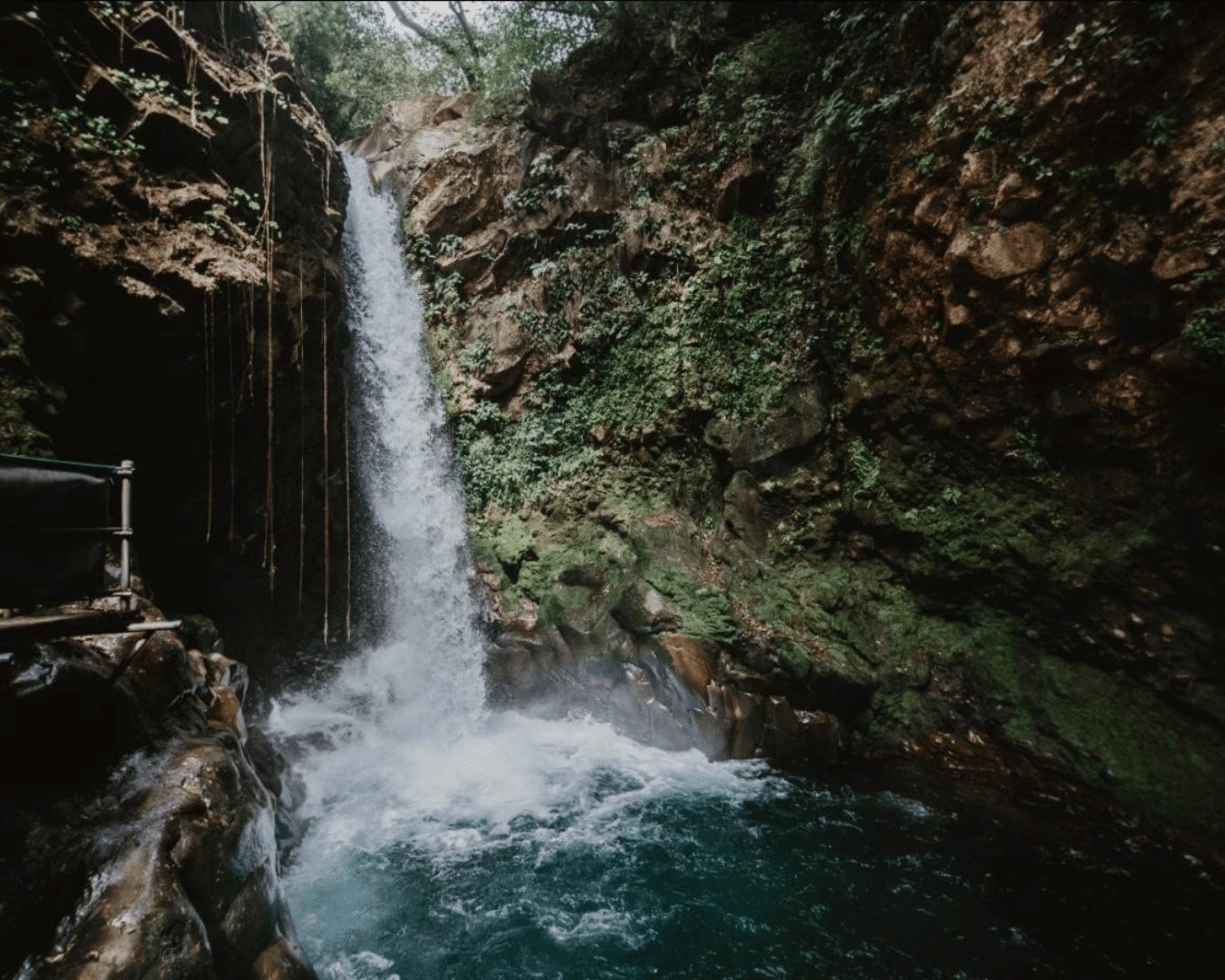 Enjoy Your Time
No need to hold yourself back- you can get closer by going down the metal stairs and reaching the riverbed. Explore the waterfall's base that lets you experience natural splendor. But, this is something you can do only when is not raining and is safe to swim because the water is gushing and deep in the rainy season. If you are visiting in arid parts of the year, you can manage to take a swim in the waterfalls' base and get a close-up view of the waterfall.
Few Considerations to Make the Most of Your Visit
Few of us who are good swimmers and more on the adventure side won't miss this opportunity to dunk into the waters and go up close to the waterfall
Rainy Season Tips
In the peak rainy season during September, October, and the first week of November it's necessary to be cautious as flash floods are frequent. At this time, you won't find anyone jumping in the waters and the climbing hooks are lying bare and empty on rocks. It makes sense as it's not safe to dunk into deep gushing waters when it has just rained.
Planning Your Visit -The Practical Part
Get online tickets for a Self-Guided Visit to the Waterfall and Lunch. Hacienda Guachipelin Hotel sells tickets to the waterfall in its combo package, including a visit to the waterfall and lunch.
About lunch at Hotel Hacienda Guachipelin
Lunch is usually a buffet. However, during low season when there are very few people you will have to pick from the menu. You'll also get some fresh fruit juice and dessert. It's an excellent way to end a trek that leaves you feeling hungry for a good meal.
Ticket price: Waterfall Admission + Lunch Combo
For adults, it is $32 per person.
For kids between 4 and 12 is $21 per person.
Free for children under 4.
It's best to buy tickets online in advance or you can buy them at the hotel's adventure center. Either way, you must check in at the adventure center's front desk to get your wristbands. Limited occupancy requires that you book your tickets in advance.
Hours
Every day from 8:30 a.m. and ends at 4:30 p.m.
What to Pack
The trail is sunny and in a tropical climate. It's good to bring a hat for the sun, sunscreen, bug spray, a camera, band-aids, a bathing suit, and a towel.
Wear sneakers or nicely gripping hiking sandals such as Chacos-Keens on the trail.
Also, it's preferable to have a change of clothes as you leave in the car.
Facilities
As you get on the hike, there are restrooms available at the coffee place just right in front of the entrance to the trail. However, make sure you use the restroom before you leave the adventure center because sometimes the ones at the coffee place don't have running water
Driving Directions
From downtown Liberia, it takes about 40 minutes driving.
Start from Liberia, on the Inter American Highway 1, and head north. After a few minutes, take a right into Curubande town towards Rincon de la Vieja National Park and the Hacienda Guachipelin Hotel.
Keep moving along the paved, narrow, and curvy road reaching the small town of Curubandé. Finally, you will reach a gate at the end of the road leading to the entrance of Hotel Hacienda Guachipelin.
The guard checks your reservation at the gate. If you don't have it, he charges a small per person fee (around 800 colones or $1.50) so that you can enter the property. Once you enter through the gate, continue driving for about 3 km (1.86 miles) to reach Hacienda Guachipelin's Adventure Center.
Yes, you can swim. There is a deck with stairs to go down. Swimming won't be possible during the rainy season or when the water level is higher than normal.
It is located inside Tenorio Volcano National Park. This waterfall belongs to the province of Alajuela and you have to drive to the town of Bijagua to get to it.
Drive through the city of Liberia on the Inter American Highway 1, and head north. After a few minutes, take a right into Curubandé town towards Hotel Hacienda Guachipelin
Keep moving along the paved, narrow, and curvy road reaching the gate at the end of the road leading to the entrance of Hotel Hacienda Guachipelin.
Other Attractions & Tours in Rincon de la Vieja area
The One Day Adventure Pass
Experience all the best adventures in one day! There are four main activities during this day of adventure: canopy (zip line) tour and rappelling through the Colorado River, a tubing adventure on the Colorado River with class III rapids, Rock Climbing and relaxation with volcano-heated thermal waters, steam, and mud bath. The package also includes a delicious lunch at our Restaurant.
 Start hiking in the forest to the foot of the Blanco river and that is where the real adventure starts. You will go around incredible rock formations, canyons, caves, and crystal blue water until we get to see La Leona Waterfall at the end.
Surrounded by amazing rock formations, crystal blue waters, caves and adventure, La Leona Waterfall Adventure Hike is by far one of the best and top-rated waterfalls adventures in Costa Rica.
River Tubing – Rapids class II and III
Enjoy non-stop fun and excitement bouncing and splashing down five km (three miles) of Class I and II rapids along this narrow, rushing river of crystal clear water. There are plenty of quiet pools along the way to appreciate the beautiful tropical scenery of the Colorado River that comes from Rincon de la Vieja Volcano. Our special, individual river tube rafts are designed with handles and protective bottoms. Guides go with you and ensure your safety and enjoyment throughout the duration of your experience.
The Mega Combo Tour is truly an adventurous way to spend a day full of pure adrenaline! Extreme Canopy Tour – Hanging Bridges – Water Slide – Horseback Riding – Thermal Hot Springs – Waterfall – Lunch
The largest jungle water slide in Costa Rica (420 meters)
Amazing Waterfall
Jungle Zipline or Hanging bridges
Horseback riding or Tractor safari
The famous Volcanic mud bath
Natural hot springs
Relaxing Volcanic steam sauna
Costa Rican typical Lunch