Video
Discover La Leona Waterfall with us and live an unforgettable moment of adventure and adrenaline. If you are planning your trip to Costa Rica, it is a destination that you cannot miss. Nature and emotion await you on this journey full of magic. We bring you all the information you need.
Costa Rica is a territory known for its heavenly beaches and enchanting landscapes. When you come to visit it, you can't miss everything it has to offer. Therefore, we recommend adding this tour to your itinerary, we know you will not regret it.
A wonder that has remained unknown to visitors for many years. However, it has become popular in recent years for its great beauty and the experience it offers. You can get to know it by the hand of a team prepared to make this visit the best memory of your trip.
Get to know This Amazing La Leona Waterfall
This is a place that has managed to preserve its mystique due to the difficulty involved in accessing it. Because of this, many know it as the "Hidden Waterfall". Its name goes back, according to the residents of the region, to a nearby cave where a real lioness used to live.
It is in the town of Curubandé, in the city of Liberia which belongs to the province of Guanacaste. A few kilometers away, you can visit the Rincón de la Vieja Volcano and its surroundings, where the Blanco River is born. It is from there that the blue and turquoise flow that you will find in the waterfall comes from.
The postcards offered by the region will leave you more than amazed. The great crystalline pool is covered by canyons and natural caverns from which the waterfall is born. Throughout the tour you will be able to observe:
● Canyons and caves
● Small pool
● The beautiful White River
● Flora and fauna native to the region
● The big pool at the end of the tour
● The main waterfall
Getting to the area where it is located does not present major difficulties, since it is only 25 minutes from the city of Liberia. The road is pleasant for a vehicle in good condition and does not require a 4×4. Once there, the real adventure will begin.
La Leona Waterfall Location in Costa Rica?
If you plan a stop in the city of Liberia, allocate a day to visit this place and neighboring areas to make the most of the day.
To visit the waterfall, it will be necessary to purchase a tour. It is the only waterfall that originates between two canyons, so it requires strict safety parameters and expert guidance. You can arrive with your vehicle or hire a package with transportation included.
La Leona Waterfall is located in the small town of Curubandé, 20 minutes outside of downtown Liberia in the province of Guanacaste. La Leona is a unique deep blue waterfall rooted between two canyons. It's one of the few waterfalls with this unique trait in Costa Rica.
When is it convenient to Visit the Waterfall?
If you are looking for the best time to travel to Costa Rica and visit the Waterfall, we recommend doing it during the dry season. In this way, you make sure you can enjoy all the landscapes in their splendor without the unforeseen weather of the rainy season.
Between December and April is the optimal time. The waterfall will be bright and blue, perfect to enjoy and get the best photos. The Blanco River during the rainy season can be brownish and its flow can make walking difficult, therefore, the dry season is recommended.
One consideration to consider is that during this season the temperatures in the region increase a lot. It is a tropical region where the climate is extreme. However, the visit to the waterfall will be a fantastic opportunity to cool off in the river and enjoy the heat.
Likewise, it is advisable to visit it at times of less crowding. For this, the best will be preferable on weekdays, when there are not so many tourists or locals enjoying the landscape.
How is the road to the Waterfall?
The journey to the waterfall is not a simple or boring walk. It is a true adventure between natural paths, the river, stones, and caves. In addition, depending on the package you purchase, you can enjoy recreational activities in the Rincón de la Vieja park.
Its difficulty is of a moderate level, and it is not recommended for people with reduced mobility, knee, ankle, or leg conditions. The basic tour takes place over 3 hours with 2 kilometers of travel, both outward and return. Along the way you will enjoy:
● Walking through the vegetation on natural paths.
● Walking on stones and parts of the river current.
● Swimming in the river to access the waterfall.
● Bathing in the pool of the waterfall.
● Learning about regional vegetation and fauna.
● Entering caverns and canyons.
● Climbing on rocky surfaces.
● Knowing the waterfall!
You will be able to listen to stories and legends of the region, discover the depths of the tropical forest, and much more! It is a true adventure. If you want to enhance the experience, you can hire packages with water activities, and zip lines, and even enjoy an outdoor lunch.
How long is the tour?
Your visit can vary between 3 and 8 hours depending on the type of visit you select and tour option. You can do it alone, with your family or friends and even with pets! There are private excursions so that the guide is completely at your disposal. Remember that the only way to do it is with experienced guides.
Benefits of taking a guided tour
If you have never had the opportunity to take a guided tour or if you prefer to explore the landscapes on your own, do not be discouraged. It is an extremely rewarding experience, with the possibility of knowing the place for much more than immersion in space. Besides, it's the only way to find out.
What does a guided tour offer?
A guided tour offers a tour thought out and designed by specialists who know the area perfectly. You will have the possibility to know every detail, in the best way. The advantages of participating in a tour of this type are:
● First-hand stories.
● Experience with the route and its difficulties.
● Ease of arrival and return without losing your way.
● Help at all times in any situation that arises.
● Constant motivation of the guide and the group to cope with the demands.
● Share the adventure with a warm group of people.
● Learn the best advice from experts during the tour.
● Security is always guaranteed.
A guided tour allows you to get to know the place in depth, beyond what your senses can capture. In addition to the photos you can take, you will take an experience of the cultural approach. Also, you will have the certainty that you have fully enjoyed everything the site has to offer.
This waterfall and Costa Rica have much to discover and experience. Do not leave without receiving all the wealth that the region can offer you. An incredible trip and a memory for life, are within your reach.
Why do this excursion?
The visit to the Waterfall is a must-stop on your trip through Costa Rica. It offers you a glimpse of everything the country can show you. It is in a strategic area to plan your trip without missing the best beaches and the visit to the Rincón de la Vieja Volcano.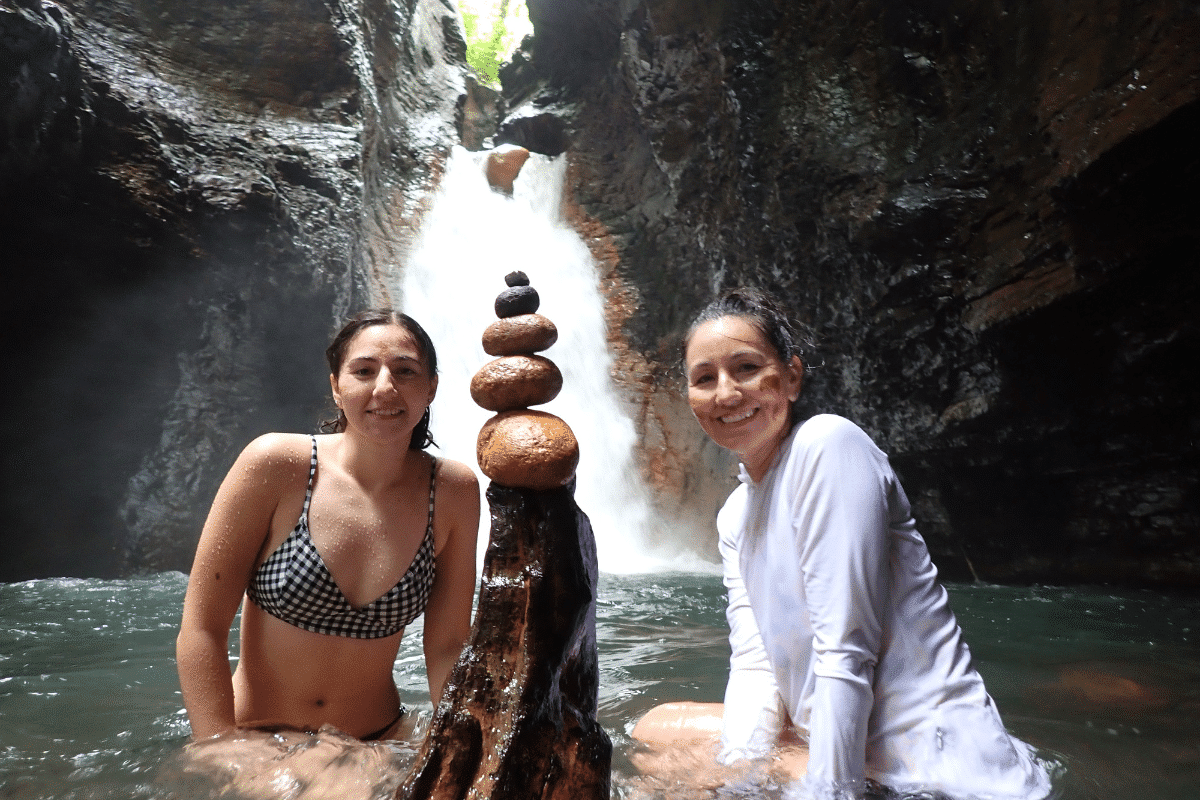 It is one of the most complete tours you can do since it involves different recreational activities. Walk, swim, climb, enjoy nature and a lot of other things. Those who have visited this hidden beauty recommend the experience.
It is the most surprising waterfall that you can see in Costa Rica due to the rock formation that houses it. Unique in its kind, with two canyons that cover it and its turquoise and blue waters that seem magical. Your views are unmatched
In addition, it is a destination chosen by the residents themselves. Not only was it discovered by tourists, but the natives recognize it as one of the beauties of their country. For all this, you cannot leave without meeting him.
Who can take the tour to La Leona Waterfall?
It is a route with moderate difficulty; therefore, most people can do it. However, it requires a certain physical condition to reach the finish line and enjoy even the most demanding moments. People with mobility difficulties or leg injuries are not suitable.
The minimum age to integrate a general group is 8 years. For this reason, if you want to be accompanied by children under that age, you must hire a private option.
La Leona Waterfall from Tamarindo
Tamarindo Beach is located about 1hr 50min away from La Leona Waterfall. This area of Rincon de la Vieja volcano is one of the top attractions from travelers who are staying near the Tamarindo area.
How do I get to La Leona Waterfall From Tamarindo?
One option for those who don't have a car or just don't feel like driving is to hire private transportation.
Private transportation from Tamarindo to La Leona Waterfall ranges between $170-$190 round trip in a a fully authorized van with air conditioning. You can request a quote directly with  La Leona Waterfall in this link: Request a quote for transportation to La Leona Waterfall from Tamarindo
How to prepare for La Leona Waterfall
If you have already taken a tour of these characteristics, you will know that it is essential to attend prepared. Being comfortable and having everything you need will make your tour the best experience. Your safety and health come first.
We tell you the tips you should keep in mind to enjoy without worrying about anything. Dress appropriately, take care of your skin in the heat, and anticipate unforeseen events during the visit. Before starting your trip, it will be convenient:
Wear closed shoes
Keep in mind that you will be walking a lot on rocky terrain and water. Do not wear sandals or very heavy shoes or shoes that are not comfortable for you. Do not wear new shoes for this opportunity.
Dress comfortably
It is important that you dress appropriately for the heat and the type of activity. You can wear a swimsuit or dress it under your clothes. The idea is that you feel comfortable with what you wear.
Bring a change of clothes
You will come out wet and maybe a little dirty after this adventure, so it will be convenient to have extra clean clothes. You can also bring a change of shoes.
Bring a towel
You will need it to dry yourself when you decide to get out of the water.
Sun protection
You can't forget sunscreen, sunglasses, and a hat or cap.
Bottle of water
It will be essential to keep you hydrated during the tour and arrive at the waterfall in excellent condition.
Food
Depending on the package you hire, it may include lunch or a snack, but if this is not the case, you can bring something to eat. Make sure it's as practical as possible, preferably fruit.
Equipment
If you are used to using items during the walk, you can take them with you.
If you hire our packages, you will have a special waterproof backpack so that your belongings are not damaged. It's a place you won't be able to stop photographing, so we want to make sure your phone stays dry and ready to go. You can come back with the best postcards to share!
How to book La Leona Waterfall?
If you made it this far, we know you'll be eager to see this hidden gem, and we don't blame you! It is a magical place that you must visit in the first person. Plan your vacations in Costa Rica with our packages designed for your best travel experience, all these tours have La Leona waterfall entrance fee included.
You can hire a guided tour through the TripAdvisor site, but we recommend our LeonaWaterfall site where you can access all the packages. The comments of the tourists endorse us as the best tour for the area. If you want to know more about the different options, we present them here
Regular package
An unforgettable 3-hour tour where you will get to know the waterfall, the forest, the rock formations, and the charming Blanco River. Its price is 30 dollars per person. You will receive a vest, waterproof backpack, and expert guide in a group of up to 15 people.
Private package
This is the option to obtain a package identical to the regular one, but with the advantage of a private group. You can hire it exclusively for your family or group of friends. Keep in mind that your tour will be private, but you will meet other tourists at the main Waterfall.
Package with La Leona Waterfall, River Tubing in the Colorado River and lunch
You will enjoy the same regular visit to the waterfall. Then, you will have a lunch of your choice and a break. Later, the experience of navigating 5 kilometers (3miles) of the rapid currents of the Colorado River aboard an inflatable tubes begins. Guaranteed fun on this 4-hour trip, for 90 dollars per adult.
Package with La Leona Waterfall, River Tubing, Hot springs, Mud baths, and Lunch
In addition to knowing about the waterfall and the rapid currents, you can enjoy lunch and the 3 pools of thermal waters. A renewing hot bath, plus a volcanic mud bath with excellent properties for your skin. You will have a total of 8 hours to enjoy to the fullest, for 100 dollars.
Package with La Leona Waterfall, Hot springs, mud baths, zip lines, and lunch
This package includes the hike to the Waterfall, plus 7 different zip lines to live an unforgettable experience on the Blanco and Colorado River. You can enjoy its rock formations and immerse yourself in the crystal-clear waters that it offers.
In addition, you will have the experience of revitalizing yourself in the hot springs and the volcanic mud bath. This super complete adventure lasts 8 hours and costs $105 per adult.
Other tours to do in Costa Rica
When visiting Costa Rica will open its doors for you to discover the quality of its people and the beauty of its landscapes. Once you arrive, you cannot miss its beaches and all its attractions. Plan your trip so you don't miss a thing.
You can combine your tour of the hike to the Waterfall with a spectacular visit to the Rincón de La Vieja Volcano. Enjoy a whole day of hiking, river activities, safari, and much more! with our packages. To learn more about everything that Costa Rica offers you, visit our blog.
Frequently Asked Questions
Yes, a guided tour is necessary since its rock formations, the current and the trail require experts for a safe tour.
No, you can not hike la Leona Waterfall without a guide. You will always have at least one or more guides with you at all times during the hike because they have to make sure to tie ropes, help you go across the river, and make sure you are safe the whole way.
For La Leona Waterfall you must bring: 
Closed toe shoes or Sandals with Straps (Chacos or Keens allowed)
Extra clothes to change after the tour
Extra shoes to change after the tour
A small bottle of water
Towels